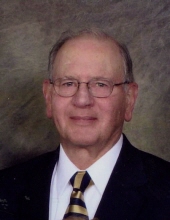 Obituary for Arlen Dean Pals
Arlen Dean Pals, 84 of Lake Mills, IA, passed away Thursday, February 7, 2019 in Lake Mills, IA, surrounded by his family.

Memorial service will be 1:30 PM, Saturday, February 16, 2019, at Salem Lutheran Church, 401 S Lake Street, Lake Mills, IA 50450, with Pastor Joel Guttormson officiating.

A Memorial Visitation will be held 5-7 PM Friday evening at Mittelstadt Funeral Home, 902 East Main Street, Lake Mills, IA 50450 and again on hour prior to the service at the church.

Military rites will be performed by Lake Mills Otto/Chose American Legion Post #235.

Arlen Dean Pals ("Pickles") was born to Andrew and Rena (Mennenga) Pals on January 10, 1935, in Belmond, Iowa. Arlen was the youngest of four children. He was baptized and confirmed at Immanuel Reformed Church, attended school at and graduated from Belmond Community School in 1953.

Arlen was united in marriage to Shirley (Soma) Pals on June 8th 1957 at Trinity Lutheran Church in Belmond, IA. Arlen and Shirley have three children, Ryan (Kim) Pals, Randy and Roxanne (Brad Dondlinger) Pals, seven grandchildren, Tony (Bethany) Gulick, Jamie (Brian) Appenzeller, Miranda (Anthony) Nelson, Rebecca (Alex) Wolfe, Andrew (Chelsea Haines) Pals, Brennan Dondlinger and Parker Dondlinger. Arlen was the proud great-grandfather of Sophia Nelson, Kale Appenzeller, Dylan Gulick, Connor Gulick, Camdon Nelson, Calvin Nelson, Elise Gulick and Evelene Wolfe. Arlen is preceded in death by his parents and siblings.

Arlen served in the Army from 1957-1959 and was stationed in Fort Knox Kentucky and Munich Germany. He and Shirley owned and operated P&G Market Lake Mills, IA from 1967-1981. He worked as an adjuster for Winnebago Mutual Insurance, Lake Mills, IA and later in life worked at Mittelstadt Funeral Home.

Arlen loved his family, friends, the St. Louis Cardinals, and playing golf every Thursday at 1:16pm with his beloved foursome! "Pickles" has been described by many as a great guy and a good man who was kind, sweet and caring-always smiling.
Upcoming Events
Memorial Service
Salem Lutheran Church
401 South Lake Street Lake Mills, Iowa 50450
Lake Mills, IA 50450
Previous Events
Visitation
Mittelstadt Funeral Home
902 East Main Street
Lake MIlls, Iowa 50450