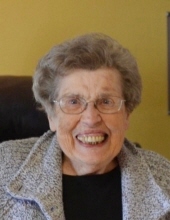 Obituary for Audrey Annette Groe
Audrey Annette Evans Groe, 86 of Lake Mills, IA, died Tuesday, January 1, 2019 at Mayo Clinic Health System-Albert Lea Hospital, in Albert Lea, MN.

Audrey's funeral will be held at 2 PM on Friday, January 4, 2019 at Sion Lutheran Church, 4527 Finch Avenue, Lake Mills, IA 50450, with Pastor Paul Meierding officiating. Burial will be in the Sion cemetery. Visitation will be at the church for one hour prior to the service.

Memorials may be directed to Sion Lutheran Church, 4527 Finch Avenue, Lake Mills, IA, 50450.

Audrey Annette was born in Eau Claire, Wisconsin on December 18, 1932 to Noble E. Evans and Myrtle (Hovey) Evans. She was baptized at Naples Lutheran Church, rural Buffalo County, Wisconsin, and confirmed at Central Lutheran Church, Mondovi, Wisconsin. She attended Mondovi public schools through the 10th grade, when her family moved to Red Wing, Minnesota. She graduated from Red Wing High School in 1950 and from St. Olaf College, Northfield, Minnesota, in 1954, with a degree in Christian education.

Before she was married, Audrey was the Director of Christian Education at Grace Lutheran Church, Albert Lea, Minnesota, where she worked from 1954 to 1957. On November 24, 1957, she married Comer Groe and moved to Worth County, Iowa, where she lived as a farm wife for over 40 years. Before starting a family, she worked for a short time at Deluxe Factory in Lake Mills. The couple was blessed with three children, Jorun, Amos and Christma.

Audrey was active in her church, Sion Lutheran, where she sang in the choir, taught Sunday School and Vacation Bible School, worked with the church women's group and her circle, organized the quilting group, and held various leadership positions. She sang for many years with the Lake Mills Community Choir and was a charter member of the Lake Mills Fine Arts Guild. She was a fantastic organizer and a wonderful cook, and always enjoyed entertaining family and friends in her home. She delighted in sharing her "tea rings" with many lucky recipients. Her five granddaughters will especially remember her themed tea parties.

Audrey was employed by Twedt Insurance, Lake Mills, and for 17 years with the Worth County ASCS in Northwood, Iowa. She retired in 1995. In 2000 she and Comer moved to Lake Mills and turned the farm over to son, Amos. Audrey was a prolific letter writer and over the years corresponded with many, many friends. At the age of 79, she got her first computer and enjoyed communicating with family and friends via email.

Audrey died on January 1, 2019. She was preceded in death by her parents, and a brother, Noel Evans, as well as her parents-in-law, Alfred and Elizabeth Groe. She is survived by her husband of 61 years, Comer Groe of Lake Mills; children, Jorun (Paul) Meierding of Mankato, Minnesota, Amos (Marna) Groe of Lake Mills, and Christma (Todd) Lange of Albert Lea; grandchildren, Karl (Sara) Meierding, Erika Meierding, Brittany Groe, Brook (Calvin) Beal, Ashley Groe, Colby Groe, Solveig Lange, Jens Lange and Henrik Lange; one great-grandson, Roan Beal; and special friend, Bernice "Tom" Thompson of Albert Lea.
Previous Events
Visitation
Sion Lutheran Church
4527 Finch Avenue
Lake Mills, IA 50450
Funeral Service
Sion Lutheran Church
4527 Finch Avenue
Lake Mills, IA 50450