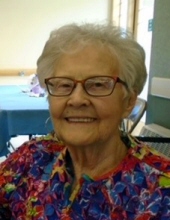 Obituary for Beverly Senoma Andersen
Beverly S. Andersen, age 90 of Lake Mills, died on Wednesday, May 23, 2018 at the Lutheran Retirement Home in Northwood, Iowa.

Memorial service will be 1:30 PM Saturday, May 26, 2018, at Salem Lutheran Church, 401 S Lake Street, Lake Mills, IA 50450, with Pastor Melinda McCluskey officiating.

Bev's family will greet friends and relatives one hour prior to the service at the church.

Inurnment took place at Salem Memorial Cemetery.

Family suggest that memorials be made to Salem Lutheran Church, 401 S Lake Street, Lake Mills, IA 50450.

Beverly Senoma (Hanna) Andersen was born January 7, 1928 in Lake Mills, IA, the daughter of Leslie Buell and Gertrude Ellen (Hovland) Hanna. She attended school at Lake Mills Community School and graduated Class of 1945.

On October 6, 1946, she was united in marriage to Lionel Patrick Andersen at Salem Lutheran Church. Lionel passed away on April 11, 2007.

Over the years, Beverly had worked for Lake Mills Farmers Elevator and Cool Springs Canning Factory, but was last known for the 20 years she worked for Farmers and Merchants State Bank in Lake Mills.

Beverly loved her family and friends. She stayed very active with her Bridge Clubs, Literary Club, and Salem Lutheran Church and church circle.

She is survived by her loving children, Lon (Lois) Andersen of Bradenton, FL; Linda (Bill) Germann of Shorewood, MN; four grandchildren, Callie (Craig) Burris, Lezlie (Richard) Tooley, Lindsay (Shaun) Farmer and Christopher (fiancé Ashley Joiner) Andersen; great-grandchildren, Emily Paulson, Bella Burris, Finley Tooley, Signe Tooley, Gage Farmer, Griffin Farmer, Addisyn Andersen and Hadley Andersen; brother, Robert P. Hanna of Selmer, TN; brother and sisters-in-law, Wayne (Georgia) Andersen of Tucson, AZ, and Verlaine Andersen of Apple Valley, MN; along with several nieces, nephews, other relatives and friends.

Beverly was preceded in death by her parents, her husband, one brother Emerson and one sister, JoAnn Butcher.