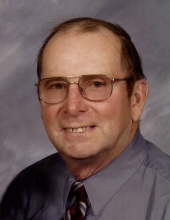 Obituary for Francis (Frank) H. Yegge
Francis (Frank) H. Yegge, age 78 of Lake Mills, IA, died on Wednesday, November 21, 2018 at Iowa Methodist Hospital in Des Moines, IA.

Mass of Christian Burial will be 10:30 AM, Tuesday, November 27, 2018, at St. James Catholic Church, 906 W O Street, Forest City, IA 50436, with Father James Dubert and Father Paul Lippstock officiating.

A Vigil Service will be on Monday, November 26, 2018 at 4:00 PM with visitation continuing until 6:00 PM at Mittelstadt Funeral Home, 902 East Main Street in Lake Mills. Visitation will continue one hour prior to the service at the church on Tuesday.

Burial will be in Graceland Cemetery in Buffalo Center with military honors conducted by the Buffalo Center American Legion Post #21.

Francis (Frank or Franny as his siblings called him) Henry Yegge was born in Wesley, IA, to Albert and Viola (Miller) Yegge on December 23, 1939. He was raised in Buffalo Center, IA, where he lived on a farm, and attended Wesley and Buffalo Center High Schools until he joined the US Army in 1962. He served in the military for two years.

He met the love of his life, Ruth Ann Richardson at The Golden Bubble in Wells, MN. They married on September 14, 1968 and celebrated their 50th wedding anniversary in September of this year. Together, they settled on a farm outside of Scarville, where he started to live his dream of becoming a farmer, after he had worked and managed the Buffalo Center and Thompson Elevator Feed Mills. Frank and Ruth Ann planted their roots here while raising their five children, instilling a strong work ethic and independence in each of them from a very young age, teaching them the life of the farm, including bean walking, taking care of the farrow to finish hog operation, as well as driving the tractors and equipment in the field. Farming was his livelihood, but also his hobby. He enjoyed raising livestock, which included mostly cattle and hogs, and growing corn and beans.

Frank was a member of the St. Patrick's Catholic Church in Lake Mills and was involved with the Knights of Columbus. He also served on local boards such as Winnebago Mutual Insurance Company and Lake Mills Elevator Board of Directors.

He is survived by his loving wife, Ruth Ann; his daughters Lisa Yegge of Ankeny, IA, Kelly (Kevin) Till of Urbandale, IA, Stephanie (Craig) Poling of Honolulu, HI, and Cheryl (Ken) Harris of Laguna Hills, CA; and son Michael Yegge of Bremerton, WA. He was also the proud grandpa of seven grandsons: Blake; Nicholas, Ajay, Lincoln; Charlie, Ryan and Brody. Frank loved to play "airplane," "leg wrestling," and taking them for rides around the farm, or playing in the wagons or bins of corn or beans.

Frank is also survived by his siblings, whom he is proud of and enjoyed visits: Arla "Jean" Kemna of Mason City, Dennis (Edna) Yegge of Buffalo Center, Shirley Grandgenett of Mason City, Marlys (Frank) Mishak of Clear Lake, Dave (Dona) Yegge of Algona, and Kathy (Donald) Olson of Buffalo Center; two brothers-in-law Sherman (Ramona) Richardson of Waldorf, MN, and Dean (Kathy) Richardson of Wells, MN; and a sister-in-law, Dianne Richardson of Fairfax, VA. He also enjoyed showing several of his 47 surviving nieces and nephews life on the farm when they were young. Sometimes they would come and work, or stay during the summer to have fun on the farm.

He was preceded in death by his parents; a brother Ronald Yegge, Sr.; sister Rosemary "Rosie" Hoover and her husband Vaughn; mother-in-law Palma Richardson; brothers-in-law Clarence "Bud" Kemna and Harold Grandgenett; and two nephews Tim Hoover and Blaine Mishak.

Frank loved his family and career. He was a man of honor, integrity and authenticity. He will be missed dearly!
Previous Events
Visitation
Mittelstadt Funeral Home
902 East Main Street
Lake MIlls, Iowa 50450
Funeral Service
St. James Catholic Church
906 West O Street
Forest City, IA 50436