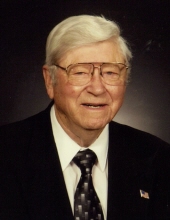 Obituary for James LeRoy Tweeten
James LeRoy Tweeten age 93 died on Thursday, January 10, 2019 at the Lake Mills Care Center.

Funeral services will be held at 10:30 AM on Monday, January 14, 2019 at Salem Lutheran Church, 401 S. Lake St. in Lake Mills with Pastor Joel Guttormson officiating.

Interment will be in Beaver Creek Lutheran Cemetery, rural Joice, Iowa, with military honors will be conducted by the Lake Mills Otto Chose Post #235.

A visitation will be from 5:00 to 7:00 PM on Sunday, January 13, 2019 at Mittelstadt Funeral Home, 902 East Main St., Lake Mills, Iowa 50450.

In lieu of flowers, memorials may be directed to the Beaver Creek Lutheran Cemetery, 3770 Bluebill Ave., Joice, IA 50446.

James LeRoy Tweeten was born December 1, 1925 to Gilbert Tweeten and Mae Dahlby Tweeten on their farm near Joice, IA. Jim attended Dahlen Country School and graduated from Joice High School. During 1946 and 1947, he served as a Medic in the US Army, including time on the hospital ship HOPE. He was honorably discharged in 1947.

On April 3, 1949 he married Ruth Ione Heimdal (his high school sweetheart) at Beaver Creek Lutheran Church, rural Joice. Jim and Ruth were members of Beaver Creek Lutheran Church for over 50 years, where Jim served as Lay Chairperson and was on the council several times.

They had two children, Debra Jane and William James. Jim and Ruth lived and farmed near Joice, and moved to Lake Mills in 1982. Jim enjoyed helping son Bill with farming and rode in the combine as recently as 2016. In 1974, Jim began a college course in Health Care Administration at Area Eleven Community College, Ankeny, Iowa. After passing the National and State Exams, Jim was licensed as a Nursing Home Administrator and considered himself privileged to work with a very special caring staff at the Lutheran Retirement Home, Northwood, IA for almost 17 years. Jim felt God had called him to a ministry of serving, and shared with the nursing home staff that "God has given us love to share." It made him happy to help others. After retiring he helped out as interim administrator at a number of nursing homes in Iowa, two times at IOOF at Mason City, plus seven other homes.

The Lake Mills Canning Factory provided a short-term job for him on several occasions. He was a member of the American Legion for 70 years, serving as the Joice Legion Commander for two terms. Jim's community involvement included serving on several boards: the Joice Coop Elevator, Winnebago Mutual Insurance, and the Nursing Home Administrators Licensure Board. He was a charter member with the Lake Mills Ambulance Service and volunteered for 17 years.

Jim loved family, friends, and meeting new people. Together Jim and Ruth enjoyed worshiping God, playing card games and golf, horses, and singing. They enjoyed traveling: all over the U.S. and Canada and overseas to 11 European countries and Taiwan. Wintering in Texas brought them much pleasure. "Ruth and I always enjoy each other's company," he often said. Sharing the love of Jesus, Jim and Ruth teamed together in hospitality to friends and family, to those going through a tough time, and even continuing as Jim hosted movies and the Lawrence Welk Show up to the present.

Two of his favorite caps remind us of the priorities in his life. BLT Farm caps, featuring favorite John Deere tractors of his son Bill, remind us of the importance of farm values: hard work, love of the land, and family. Honor Flight caps remind us to Honor God, the Military and Country.

Those left to cherish his memory include daughter Debra and Scott Olsen of McCook Lake, SD; grandson Erik and Mandy Olsen of St. Louis, MO; granddaughter Mindy and Robert Thomas and great-grandchildren Maxus and Sarah of Herman, NE; son Bill and Linda Tweeten of Joice, IA, grandson Joshua and Erica Tweeten and great-grandchildren Nora, Sophia, and James of Austin, MN, grandson Jacob Tweeten of Lake Mills, IA; grandson Tyler and Lindsay Tweeten and great-granddaughters Anna and Addison of Austin, MN; brothers: Stanley and Joyce Tweeten of Manly, IA; Luther and Eloyce Tweeten of Hillard, OH; his in-laws Marilyn Tweeten of Joice, IA; Carole Hagen of Lake Mills, IA; and Sylvia Heimdal of Joice, IA; and many nieces, nephews and friends.

He was preceded in death by his wife Ruth Heimdal Tweeten, parents Gilbert and Mae Tweeten; siblings and in-laws, Alvin and Cecel and Mattie Tweeten, Olive and Leonard Gilbertson, Komer and Marion Johnson, Ruth and Stanford Holtan, Maynard Tweeten, Bess Tweeten, Sybil and Harold Arthur, Vern Hagen, and Paul Heimdal.

We appreciate all the prayers and support from family and friends.
Previous Events
Visitation
Mittelstadt Funeral Home
902 East Main Street
Lake MIlls, Iowa 50450
Funeral Service
Salem Lutheran Church
401 South Lake Street Lake Mills, Iowa 50450
Lake Mills, IA 50450
Cemetery Details
Location
Beaver Creek Lutheran Cemetery
385th St.
Joice, Iowa 50446