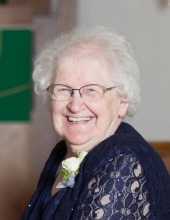 Obituary for Jane B. Berschman
Jane Bertha Berschman, 88 of Buffalo Center, IA, passed away on Sunday, July 15, 2018 at the Hancock County Memorial Hospice Unit in Britt, IA.

Funeral service will be 10:30 AM, Thursday, July 19, 2018 at First Reformed Church, 401 1st Street SW, Buffalo Center, IA 50424, with Pastor William Peake officiating.

Visitation will be 5-7 PM Wednesday at First Reformed Church and also one hour prior to the service.

Burial will take place at Olena Mound Cemetery in Buffalo Center, IA.

Jane Bertha Smidt was born on June 27, 1930 in Lakota, IA, the youngest of three born to Jasper and Bertha (Meyer) Smidt. Jane was baptized and confirmed in the Presbyterian Church in Lakota. She was active in high school with music and playing on the 1946 State Basketball team. Jane graduated Valedictorian of the Class of 1948.

On October 6, 1948 Jane married the neighbor boy, John Berschman. They were blest with five children: Timothy, Ronald, Debra, Joann and Denise. In 1961 they moved from Lakota to a farm north of Buffalo Center where they farmed until 1976 when John retired due to health reasons. Jane worked many years at Green Giant in Blue Earth, MN, mostly sharpening the corn knives. John and Jane moved off the farm into Buffalo Center in 1995. After quitting at Green Giant she started working nights at Timely Mission Nursing Home in Buffalo Center for 25 years as a CNA, retiring in 2010.

Jane was always busy making her jean quilts for family and friends, being outside picking up sticks, raking or mowing her lawn. She took great pride in how her lawn and flowers looked. Jane was active in her church being on the funeral committee for many years. Her children, grandchildren and great-grandchildren were the loves of her life.

Left to mourn are son Tim (Vicki) Berschman; daughters Deb (Doug) Aukes and Joann (Paul) Steffensen all of Buffalo Center and Denise (Jim) Watkins of Urbana, IL. Seven grandchildren Nicole (Kevin) Seng of Waterloo; Brooke (Michael) Shipman of Greensboro, NC; Wade (Kim) Aukes of Windom, MN; Bridget (Chad) Greiner of Keota; Tony Steffensen of Sioux Falls, SD; Abby (Blake) Kessler of Ankeny; and Alison Watkins of Urbana, IL. Eight great-grandchildren Jade (Kyle) Ubbelohde, Brady Seng, Payton, Briley and Jensen Steffensen, Charlie Aukes, Victoria Shipman and Keith Greiner. Her brother-in-law and sisters-in-law Joe and Dorothy Berschman of Buffalo Center, Pat Smidt of Fayetteville, AK and Arvilla Smidt of Blue Springs, MO and many relatives in Germany, especially Clasine Eden and family.

Jane was preceded in death by her parents, husband John, son Ron, brothers Pete Smidt and Bill Smidt, and in-laws Ruth and Donald Clapper and Kay and Gene Newel and a nephew Brian Newel.