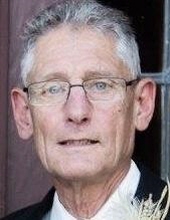 Obituary for Joel L. Back
Joel Back, age 70, died on Sunday, December 30, 2018 at his home in Lake Mills.

Memorial services will be held at 11:00 AM on Friday, January 4, 2019 at Salem Lutheran Church, 401 S. Lake St. in Lake Mills with Pastor Joel Guttormson officiating. Inurnment will be in Salem Memorial Cemetery, rural Lake Mills.

A memorial visitation will be on Thursday, January 3, 2019 from 5:00 to 7:00 PM at Salem Lutheran Church and will continue one hour prior to the service on Friday.

In lieu of flowers, memorials may be directed to the Joel Back memorial fund in care of the family.

Joel Lynford Back was born on July 29, 1948 in Mason City, Iowa to parents Lynford and Carmen (Kluckhohn) Back. He was baptized and confirmed at the Klemme United Church of Christ and graduated from Klemme High School in Klemme, Iowa.

He was united in marriage with Yvonne Fossum on June 5, 1976 at the West St. Olaf Lutheran Church in Hayfield, MN. The couple made their home in Lake Mills where Joel worked for almost 25 years in production control at Streater's in Albert Lea and Yvonne taught school. Most recently Joel worked for Winnebago Industries in Forest City, retiring in 2012.

Joel was sports fanatic. He loved watching, supporting and pushing his kids as they grew up competing in high school sports; he was an avid Hawkeye, Chicago Cubs and Chicago Bears fan; and most importantly, he cherished time spent with his granddaughters watching them play softball and basketball. He liked to fish, he gardened at home, and Joel found relaxation golfing at Rice Lake for many years.

Over the years he had taken vacations with his family to Cass Lake, Branson, the Black Hills, and went on a trip to Ft. Myers with Yvonne last year.

Joel is survived by his wife Yvonne of Lake Mills; two children David (Aubrey) Back of Ankeny, IA, and Kjerstin (Tony) Hulke of Courtland, MN; two granddaughters Morgan and Mckenna Hulke; a sister Roxanne (Daryl) Brager of North Liberty, IA; brother Dave Back of Hayfield, MN; his mother-in-law Cecile Fossum of Kasson, MN; and many extended relatives and friends.

He was preceded in death by his parents Lynford and Carmen, and his father-in-law Lloyd Fossum.
Previous Events
Visitation
Salem Lutheran Church
401 South Lake Street Lake Mills, Iowa 50450
Lake Mills, IA 50450
Memorial Service
Salem Lutheran Church
401 South Lake Street Lake Mills, Iowa 50450
Lake Mills, IA 50450