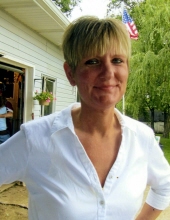 Obituary for Kelly Jo Menke
Kelly Jo Menke, 45 of Lake Mills, IA, died at her home on Wednesday, October 10, 2018.

Funeral service will be 10:30 AM, Monday, October 15, 2018 at Bethel Lutheran Church, 15722 490th Street, Scarville, IA 50473, with Pastor Mitch Thompson officiating.

Visitation will be 4-6 PM Sunday at Mittelstadt Funeral Home, 902 East Main Street, Lake Mills, IA 50450 and again one hour prior to the service at the church.

Burial will take place at Bethel Lutheran Cemetery in rural Scarville, IA.

Kelly Jo Menke was born on June 6, 1973 in Albert Lea, MN, daughter of Mark Menke and Debra Kvammen. She grew up in Lake Mills with her two siblings Dustin and Kim.

Kelly was known for waitressing at the Branding Iron for quite some time, and her outgoing personality.

The best surprise of her life came when her only daughter Jayde was born on November 22, 1996. Kelly raised her in Lake Mills, where they lived throughout Jayde's childhood.

Kelly graduated from NIACC in 2005 where she received her LPN. She then pursued a career at Urgent care in Albert Lea, MN for 10 years.

She is survived by her daughter Jayde Thompson of Mankato, MN; her sister Kim (Jeremy) Berg of Lake Mills, IA; her brother Dustin Menke of Manly, IA; her father Mark (Marie) Menke of Deerborn, MO; her nieces and nephew, Jordan Manning, Madison Berg and Drew Manning; along with many aunts, uncles, and cousins.

She was preceded in death by her mother Deb Kvammen and her step-father Jeff Kvammen.
Previous Events
Visitation
Mittelstadt Funeral Home
902 East Main Street
Lake MIlls, Iowa 50450
Funeral Service
Bethel Lutheran Church
15722 490th Street Scarville, IA 50473
Scarville, Iowa 50473