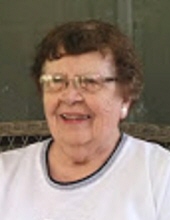 Obituary for Mary Ann Johnson
Mary Ann Johnson, age 82 of Lake Mills, died on Sunday, September 02, 2018 at the Muse Norris Hospice Inpatient Unit in Mason City.

A memorial service will be held at 3:00 PM on Saturday, September 8, 2018 at Bethel Lutheran Church in Vinje (rural Scarville, IA) with Vickie Zobel officiating.

Inurnment will be in the Bethel Lutheran Church Cemetery.

Visitation will be on Saturday, September 8, from 1:00 until service time at the church.

Mary Ann (Cleven) Johnson was born on August 20, 1936 in Albert Lea, Minnesota the daughter of Reinhardt and Luvina (Herfendal) Cleven. She was raised on a farm near Scarville, and graduated from Scarville High School. Following graduation, Mary Ann went on to Luther College in Decorah to receive her teaching certificate and soon after took a job teaching in Clarion, Iowa.

She met Neal Johnson from Thompson, Iowa and the two were united in marriage on June 29, 1957 at Immanuel Lutheran Church in Scarville. The couple made their home farming south of Thompson until mid-1960, later making the move to their Vinje farm where Mary Ann remained until 1994. She then moved into Lake Mills.

Mary Ann was a farm wife, mother, and home maker who enjoyed quilting, crafts, sewing, traveling, and socializing with friends and family. Mary Ann took great pride in being a 4-H leader, knowing the values it instilled in her children would be beneficial as they grew into young adults. She was more than willing to help plan Scarville High School reunions, was very active with the Lake Mills Senior Citizens, was a 4-H supporter even after her kids left home, and loved visiting over a quilt with her best friends.

She is survived by her four children Elizabeth VerHoef of Thompson, IA, Beverly Sackitey of West Chester, PA, Amy (Graden) Thompson of Pacific, MO, and Norman Johnson of Kansas City, MO; four grandchildren Susan (Eric) Thoreson, Gregg (Sara) VerHoef, Jostten Sackitey, and Okoteh Sackitey; 6 great-grandchildren Alyssa, Kassandra, Corey & Makayla Thoreson and Preston & Hayden VerHoef; as well as nieces, nephews, cousins, and friends.

Those who preceded her in death were her parents, and her husband Neal in September of 1990.
Previous Events
Visitation
Bethel Lutheran Church
15722 490th Street Scarville, IA 50473
Scarville, Iowa 50473
Memorial Service
Bethel Lutheran Church
15722 490th Street Scarville, IA 50473
Scarville, Iowa 50473