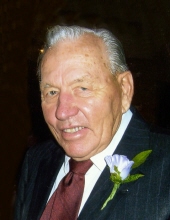 Obituary for Vernon Arnold Vold
Vernon A. Vold, age 89 of rural Lake Mills, went home to be with Jesus on Saturday, January 05, 2019 after bravely battling Parkinson's disease.

Funeral services will be held at 10:30 AM on Wednesday, January 9, 2019 at Asbury United Methodist Church in Lake Mills with Pastor Fred Cressman officiating.

Burial will be in Sunnyside Cemetery in Lake Mills with military honors conducted by the Lake Mills Otto Chose Post #235.

Visitation will be on Tuesday, January 8, 2019 from 5:00 to 7:00 PM at Mittelstadt Funeral Home, 902 East Main Street in Lake Mills, and also one hour prior to the service at the church on Wednesday morning.

Vernon Arnold Vold was born to parents Ole and Mabel (Peterson) Vold in Winnebago County, Iowa, on April 14, 1929. He was baptized and confirmed in the Methodist church in Lake Mills. Vernon attended and graduated from Lake Mills High School in 1946.

On November 15, 1951, Vernon entered active military duty with the United States Army, serving during the Korean conflict. He was awarded a Bronze Star medal, and was honorably discharged on September 20, 1953.

Vernon was married to Betty Hyland on August 22, 1954 at St. Olaf Lutheran Church in Austin, Minnesota. The couple has made their home south of Lake Mills on the farm ever since. He farmed his entire life, "retiring" but still taking in the farm's activities from the kitchen windows. His family and friends meant everything to him, and he enjoyed catching up with neighbors, reuniting with Army buddies, visiting all his children and grandchildren, and taking camping trips across the United States with his family.

Other hobbies and interests included playing softball, raising Shetland ponies, being involved with 4-H, and hunting. He also loved music and passed that love on to each of his children.

He was committed to his community as well, serving on the LMCS school board, church boards, and the Otto Chose American Legion.

Vernon is survived by his wife of 64 years, Betty Vold of Lake Mills; and their five children, Larry (Kathy) Vold of Joice, IA, Colleen (Rory) Nichols of Austin, MN, Brenda (Brad) McKnight of Osceola, IA, Cindy (Fred) Cressman of Malawi, Africa, and Gail (Pete) Greco of Robbinsdale, MN. His 14 beloved grandchildren, Anna (Jason) Calcote of Austin, TX, Peter (Shannon) Vold of Dexter, MN, Sarah (Luke) Mandler of Minneapolis, MN, Tricia (Jonathan) Poindexter of Austin, MN, David (Anastacia) Nichols of Remsen, NY, Michael Nichols of Mankato, MN, Amanda (Seth) Parker of Osceola, IA, Ashley (Jerod) Pike of Grand Rapids, MI, Kiersten Cressman of Bloomington, MN, Bethany Cressman of Bloomington, MN, Emily Cressman of Kona, HI, Isaiah Cressman of Malawi, Africa, Dominic Greco of Robbinsdale, MN, and Angelo Greco of Robbinsdale, MN; and 10 great-grandchildren. He is also survived by a sister-in-law Nita Vold of Forest City, IA; and many nieces, nephews, extended relatives and friends.

He was preceded in death by his parents; his twin infant children David and Diane Vold; and his two brothers: Milford (in infancy) and Donald Vold.
Previous Events
Visitation
Mittelstadt Funeral Home
902 East Main Street
Lake MIlls, Iowa 50450
Funeral Service
Asbury United Methodist Church
107 East Main Street Lake Mills, Iowa 50450
Lake Mills, Iowa 50450