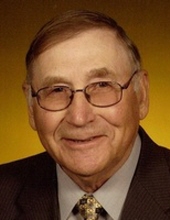 Obituary for Maynard Jerome Tweeten
Maynard Jerome Tweeten, 85, returned to his heavenly home on December 22, 2017 after a short illness at Doctors Hospital at Renaissance in Edinburg, Texas surrounded by his family. His devotion to his family and his firm belief in God supported him and ultimately gave him peace.



Funeral services will be held at 10:30 AM on Friday, December 29, 2017 at Winnebago Lutheran Church, rural Lake Mills with Pastor Bill Peters officiating. Burial will be in the Winnebago Lutheran Church Cemetery with military honors conducted by the Lake Mills Otto Chose Post #235.



Visitation will be on Thursday, December 28, 2017 from 5:00 to 7:00 PM at Mittelstadt Funeral Home, 902 East Main Street in Lake Mills and will continue one hour prior to the service at the church on Friday.



Maynard was born to the late Gilbert and Mae Tweeten on the Tweeten farm southwest of Joice on November 26, 1932. He was baptized on Christmas Day, 1932 and confirmed on May 16, 1948 at Winnebago Lutheran Church, rural Lake Mills. Maynard attended country school through the sixth grade. He then attended Lake Mills Community School graduating in 1951.



Maynard enlisted in the Army in 1953 where he was stationed in Germany. He was discharged in 1955 and went to work for Rilco Laminated Products in Albert Lea continuing there until he took over the family farm in 1956. Starting in 1970, Maynard also worked as an electrician. He retired from both farming and his electrical business in 1997 following a heart attack. The farm became a Century Farm in 2013.



In retirement, Maynard and Marilyn found great purpose in volunteering at the Rio Grande Bible Institute in Edinburg, Texas from 2000 to 2006. During that time, they had the privilege of helping establish a small orphanage in Carmargo, Mexico. The work was hard, but the rewards were plentiful. Volunteering at RGBI and spending winters in Texas have created remarkable lifelong friendships.



Over the years, Maynard and Marilyn were able to travel to all 50 states, many of those trips with four young children in a pickup camper.



Maynard was blessed with a large and loving family. He married Marilyn Flugum on January 28th, 1956 at Winnebago Lutheran Church.



Maynard is survived by his wife, Marilyn, his daughters; Susan (Steve) Hagen of Rudyard, MI, Kathleen (Milt) Pierson of Houston, TX, Elizabeth (Bradley) Hermanson of Spirit Lake, Iowa and son Alan (Donna) Tweeten of Clive, IA. He is also survived by 14 grandchildren: Joshua (Rachel) Hagen, Renae (Landon) Kollasch, Nicole (Dan) Trefz, Joel (Amber) Hermanson, Katie (Aaron) Mayer, Jessica (Tyler) Rodenroth, Jeffrey Pierson, Michelle (Matt) Hood, Carlie (Zeth) Tovrea, Emily Pierson, Nicholas, Benjamin, Maxwell and Ella Tweeten and 22 great-grandchildren. He is also survived by brothers James, Stanley (Joyce) and Luther (Eloyce) Tweeten, brothers-in-law Bernard (Arlene), Curtis (LaDonna), and Neal (Joyce) Flugum and sisters-in-law LeAnn Meier, and Karen (Wayne) Johns, a large extended family and a host of close friends.



He is preceded in death by his parents, two brothers, Alvin Tweeten and Komer Johnson, two sisters, Olive Gilbertson and Ruth Holtan and five sisters-in-law and two brothers-in-law.
Previous Events
Visitation
Mittelstadt Funeral Home
902 East Main Street
Lake MIlls, Iowa 50450
Funeral Service
Winnebago Lutheran Church
40029 - 210th Avenue Lake Mills, Iowa 50450
Lake Mills, Iowa 50450