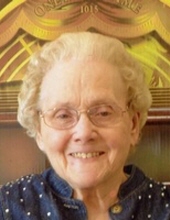 Obituary for Madeline Gladys Helland
Madeline Gladys Helland, age 96, of Scarville died on Thursday, January 11, 2018 at the Lutheran Retirement Home in Northwood, Iowa.



Funeral service will be 10:30 AM Monday, January 15, 2018 at Immanuel Lutheran Church, 105 E 3rd Street, Scarville, IA 50473, with Pastor Randy Baldwin officiating.



Visitation will be 3-5 PM, Sunday afternoon at Mittelstadt Funeral Home, 902 East Main Street, Lake Mills, IA 50450, and again one hour prior to the service at the church.



Burial will take place at Immanuel Lutheran Cemetery, Scarville, IA.



The family suggest that memorials be directed to the church or the Lutheran Retirement Home, 710 9th Street N, Northwood, IA 50459.



Madeline Gladys Helland was born September 18, 1921 in rural Rake, IA, the daughter of Carson and Marie (Bolstad) Pederson. She graduated from Rake Community School and attended Waldorf College in Forest City, IA. She was united in marriage to Alvin E. Helland on September 27, 1941.



Madeline and Alvin lived on the Helland family farm west of Bricelyn, MN until they purchased a farm near Scarville, IA. Family and church were the two things she held most precious. Madeline took great care of her family and took great pride in being a homemaker who loved to bake, sew, quilt, needle craft, flower gardens, and canning. She enjoyed her Norwegian heritage and made lutefisk and lefsa dinners for family and friends. Madeline volunteered for and enjoyed many church events such as Immanuels centennial celebration, ladies circle, vacation bible school, Sunday school, Christmas programs, and cherub choir. She enjoyed supporting the community through the Scarville Booster Club, election polls, and post office.



Madeline is survived by her children, Richard (Nancy) Helland, Emmons, MN; Carolyn Thompson, Austin, MN; Judy Roslien, Moberly, MO; Phillip (Leona), Lake Mills, IA; Wayne (Ellen) Helland, Scarville, IA; Karen (David) Helland, Springfield, IL, grandchildren, great-grandchildren, and great-great-grandchildren; Madeline is also survived by two sisters, Pearl Bear of Lake Mills, IA and Mae Hove of Wells, MN.



She was preceded in death by her husband in 2002, great-grandson Clayton Helland, brother Raymond Pederson, and two sisters Nella Halvorson and Lillian Chilcote.
Previous Events
Visitation
Mittelstadt Funeral Home
902 East Main Street
Lake MIlls, Iowa 50450
Funeral Service
Immanuel Lutheran Church
105 East 3rd Street Scarville, Iowa 50478
Scarville, Iowa 50473