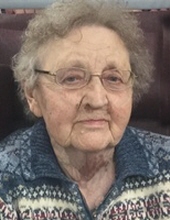 Obituary for Hazel Galina (Erickson) Hengesteg
Hazel Galina (Erickson) Hengesteg of Rochester, MN, formerly of Northwood, IA, died peacefully surrounded by loving family on Wednesday, January 3, 2018 at Pine Haven Care Center, Pine Island, MN.



Funeral service will be 1:30 PM, Saturday, January 6, 2018 at Silver Lake Lutheran Church, 705 Silver Lake Road, Northwood, IA, 50459, with Pastor Randy Baldwin officiating.



Visitation will be 5-7 PM Friday evening at Mittelstadt Funeral Home, 902 East Main Street, Lake Mills, IA 50450, and again one hour prior to the service at the church.



Burial will take place at Silver Lake Cemetery in rural Northwood, IA.



Family suggest that memorials be made to Silver Lake Lutheran Church.



Hazel Galina (Erickson) Hengesteg was born July 1, 1921, on a farm in Worth County, IA, near Emmons, MN. She was the daughter of Henry and Gunhild (Moe) Erickson. She attended and graduated from Lake Mills High School Class of 1939.



On November 14, 1948, Hazel was united in marriage to Lyle Hengesteg at the Emmons Lutheran Church in Emmons, MN.



She experienced many things in her life; she was part of the Rosie Riveters during WWII and worked in factories making everything from chocolate-covered cherries, to camper cushions, to fuel filters. She later moved to Rochester, MN, babysat many of doctors children and earned the title of Grandma Hazel.



She lived most of her life in the Northwood and Lake Mills, IA, area. She attended both, at different times, Emmons and Silver Lake Lutheran Churches, where she taught dozens of third graders Sunday School, was active in Ladies Aid and Sunshine Circle. She was also an active member of Emmons VFW.



Hazel and Lyle loved to travel. They went to Hawaii, Texas, Indiana, Ohio, plus many short trips throughout the Midwest. Their favorite trips were to Rochester, MN to spend time with their four grandkids. They loved to spend summers on the family farm with their family as their entire lives revolved around them.



Left to cherish her memory are her daughter, Linda (Ron) Lyman of Rochester, MN; granddaughters, Tamara (Steve) Mosing of Rochester, MN, Jennifer (D.J.) Horman of Eyota, MN, and Katherine (Jeremy) Hildman of Rochester, MN; grandson, Robert (Amy) Lyman of Tigard, OR; great-grandchildren, Jon and Sophia Mosing, Emma and Carter Horman, and Sybastyen, Tristyn and Josiah Hildman.



Hazel was preceded in death by her parents, her husband Lyle in 1984 and her son Lynn in 2012.
Previous Events
Visitation
Mittelstadt Funeral Home
902 East Main Street
Lake MIlls, Iowa 50450
Funeral Service
Silver Lake Lutheran Church
705 Silver Lake Road Northwood, Iowa 50459
Northwood, Iowa 50459