Obituary for Duane J. "DJ" Skellenger
Duane D.J. Skellenger Funeral Service has been rescheduled for:

10:30 AM Monday, 3/26/2018 at Asbury United Methodist Church in Lake Mills, IA.







Duane J. "DJ" Skellenger, 82 of Lake Mills, IA, died Monday, March 19, 2018 at his home in Lake Mills, IA.

Funeral service will be 1:30 PM Saturday, 3/24/2018, at Asbury United Methodist Church, 107 East Main Street, Lake Mills, IA 50450, with Pastor Doug Domokos officiating.

Visitation will be 5-7 PM, Friday evening at Mittelstadt Funeral Home, 902 East Main Street, Lake Mills, IA 50450, and again one hour prior to the service at the church.

Burial will take place at Sunnyside Cemetery in Lake Mills, IA.

The family suggest that in lieu of flowers, memorials be made to the Asbury United Methodist Church Kitchen Fund.

Duane was born on February 29, 1936, in Lake Mills, Iowa. He had five siblings. Their names are Leona, Margaret, Bill, Virginia, and Don. His dad, Leo, was a carpenter at the time. His mom's name was Ruth.

All the kids had nicknames that took the first and middle name initials. Duane and Don were DJ, Margaret was MJ, Bill was BJ, Virginia was VJ, and Leona was LJ. Virginia also went by Ginny, too. {Later I've found out that Don went by Donnie Ray.}

School was fun for Duane. He played sports, sang in music, acted in class plays, and did building in shop class.

At home he had a lot of chores. He had to mow the lawn, rake leaves in the fall, clean the bathroom & his room, drive the tractor, and when he was 11 he worked on grandpa's farm. When he was 10 he drove a tractor and a 1946 Ford car.

In high school he played a lot of sports with friends, built homes in shop class, broke a window in shop class, and sometimes, farmed instead of going to school. DJ liked to wear jeans and high-top shoes which were the trends back then. Girls wore dresses that went down to their ankles. Imagine that!

Duane's first job was farming and carpentry. Farming on grandpa's farm and helping his dad doing carpentry. Some of Duane's uncles went to war but he didn't. All the uncles survived. They were Uncle Reuben, Uncle Lynn, Uncle Virgil, and Uncle Floyd. Thru the Skellenger family they've been farmers and carpenters as a tradition. I'm even getting into carpentry.

Duane went to Iowa State University for two whole years in Ames, Iowa.

When he was a freshman in high school he dated his classmate, Martha Bakke. They went out to a coffee shop and they had malts and burgers. They were in love. Duane was eighteen when they got married. Duane and Martha had a son and two girls: Alan, Joan, and Jodie who are grown up now. Then they got a divorce a few years later.

He married Anne Vaske at sixty years old, when he was a basketball coach and she was a teacher. With Anne they had a son: Me, Ryan. DJ went on a lot of trips with Anne. They went to all the states except Alaska, Newfoundland (pronunciation Newfoondland), Canada, and Nova Scotia.

As an adult, DJ worked as a carpenter, farmer, fireman, electrician, and appliance man. To the day this biography was written he's a great appliance man. He can fix any appliance.

Five things DJ would want people and kids to know are: 1) No Smoking, 2) No Drinking, 3) No Stealing, 4) No Drugs, and 5) No Swearing. He even told me that.

DJ wants to be remembered as a hard-working guy who was willing to help anyone in need.

DJ loved to go to drive-in restaurants and outside movies. Outside movies are where you can sit in your car and watch a movie on a huge tarp in an open area, like a parking lot or an old clearing somewhere in the country.

DJ liked a lot of things that were being invented. There was the dial phone, black and white TV, computer, modern appliances, and car accessories, like power steering, power brakes, and automatic transmission.

Left back in this world are children Ryan of Lake Mills; Alan Joan, Jody. Sisters Leona Yocom; Margaret (Gaylord) Bowman; Virginia (Alan) Kuhfus; Brothers Bill Skellenger and Don (Ann) Skellenger; Uncle Virgil Skellenger from Houston, TX; and many cousins and friends.

He was preceded in death by his parents Leo and Ruth and first wife Martha Bakke.

Written by: Ryan Skellenger
To send flowers or a remembrance gift to the family of Duane J. "DJ" Skellenger, please visit our Tribute Store.
Previous Events
Visitation
Mittelstadt Funeral Home
902 East Main Street
Lake MIlls, Iowa 50450
Funeral Service
Asbury United Methodist Church
107 East Main Street Lake Mills, Iowa 50450
Lake Mills, Iowa 50450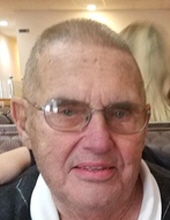 Thank you for sharing your
memory of Duane
Provide comfort by sending fresh
flowers from our local florist.
No thanks, please don't show me this again.